Vous êtes ici : CDR - CREA - EA 370 / Version française / Publications
Publication (fiche article uniquement)

,
Mapping Parameters of Meaning
sous la direction de Martine Sekali et Anne Trévise
Publié le 5 mars 2017
–
Mis à jour le 5 mars 2017
Ouvrage publié avec le concours de l'EA 370 Centre de Recherches Anglophones et de la Commission des Publications de la Commission Recherche de l'Université Paris Nanterre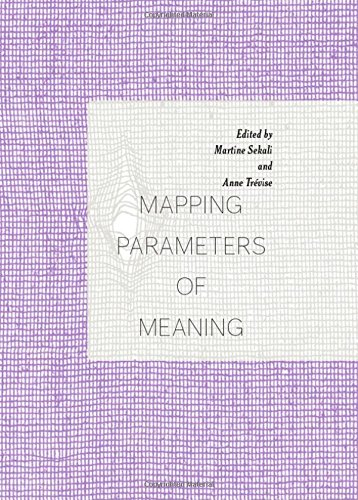 The present volume contains a selection of papers presented at the conference "Mapping Parameters of Meaning", an event organized by the GReG linguistics research group at the Language Department of the University of Université Paris Nanterre on November 19-20, 2010. The volume addresses the description of meaning construction processes, and the necessity for new linguistic interface-tools to analyze it in its dynamic and multi-dimensional aspect. Syntax, grammar, prosody, discourse organization, subjective and situational filters are not considered as autonomous systems; on the contrary, they are shown to systematically converge in the process of meaning construction and interpretation. The notion of context is discussed throughout the volume, a major concern being to try and define the precise nature of the link between variable contextual parameters and stable linguistic systems. The volume is accordingly divided into three parts. Part I, Core operations and contextual filters, considers the contribution of various linguistic operators of English (aspectual forms, prepositions, conjunctions, etc.) to the construction of meaning in context. The approach chosen in the four chapters goes from close observation of contextual and situational filters to a few leads for the formalization of parameters incorporating the meaning potentiality of linguistic signs. Part II, Semantics and Cognition contains two chapters relating to the problem of how the mind retrieves meaning in specific linguistic contexts. The three chapters that make up Part III, Language contacts and meaning construction, are then concerned with the phenomenon of inter-linguistic contact zones, observed in contrastive work on cross-linguistic notions expressed in specific language systems, code-switching by bilinguals or diglossic writings. This final part offers a sort of magnifying glass for the study linguistic interfaces in the process of meaning construction. The book is of value to anyone interested in the interaction between syntax, semantics and pragmatics in the gradual construction and interpretation of meaning in natural languages, including researchers, students and scholars of formal linguistics, cognitive linguistics and discourse analysis. The research community in the field of interface linguistics will undoubtedly find it helpful to consider the methodological discussion around new cross-theoretical interface tools for the analysis of such complex phenomena as the emergence of meaning in discourse.
Contributors
CHARLES BRASART, VALERIE BOURDIER, AGNES LEROUX, AGNES MULLER, FLORE COULOUMA, MARTINE SEKALI, FIONA ROSSETTE, GRETA KOMUR-THILLOY, SEVERINE LETALLEUR-SOMMER, ANNE TREVISE, LIONEL DUFAYE.
Relié: 199 pages
Editeur : Cambridge Scholars Publishing; Édition : 1st Unabridged (20 juin 2012)
Langue : Anglais
ISBN-13: 978-1443838979
www.cambridgescholars.com/mapping-parameters-of-meaning-16
Biographies des directrices de l'ouvrage
Martine Sekali est professeur de linguistique anglaise à l'Université Paris Nanterre. Elle est membre du Centre de Recherches Anglophones (EA 370) où elle dirige le Groupe de Réflexion sur les Grammaires (GREG).
Anne Trévise est professeur émérite de linguistique anglaise à l'Université Paris Nanterre.
Mis à jour le 05 mars 2017