Vous êtes ici : CDR - CREA - EA 370 / Version française / Publications
Publication (fiche article uniquement)

,
Dislocating the Orient: British Maps and the Making of the Middle East, 1854-1921
Daniel Foliard
Publié le 17 avril 2017
–
Mis à jour le 18 avril 2017
Ouvrage publié avec le concours de l'EA 370 Centre de Recherches Anglophones, de l'UFR LCE et de la Commission des Publications de la Commission Recherche de l'Université Paris Nanterre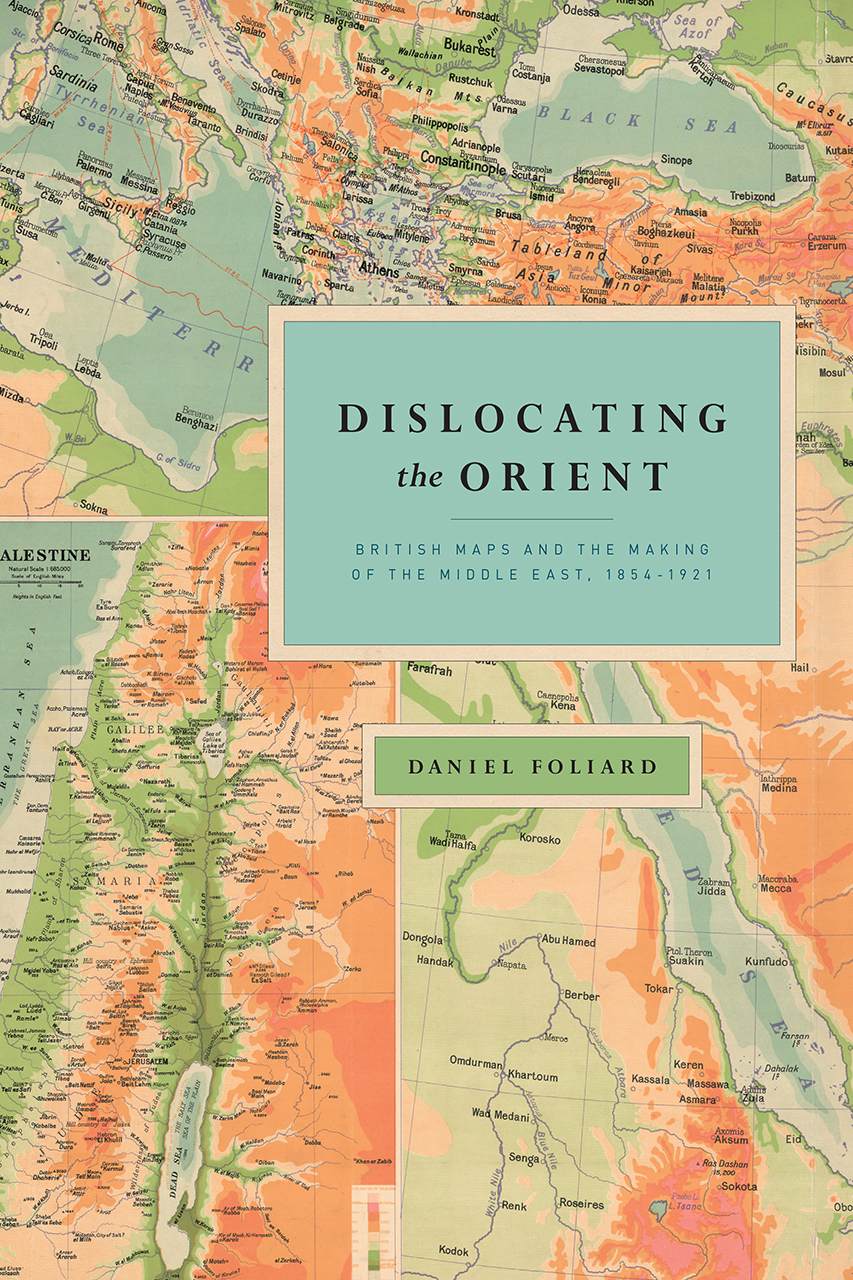 Présentation

While the twentieth century's conflicting visions and exploitation of the Middle East are well documented, the origins of the concept of the Middle East itself have been largely ignored. With Dislocating the Orient, Daniel Foliard tells the story of how the land was brought into being, exploring how maps, knowledge, and blind ignorance all participated in the construction of this imagined region. Foliard vividly illustrates how the British first defined the Middle East as a geopolitical and cartographic region in the nineteenth and early twentieth centuries through their imperial maps. Until then, the region had never been clearly distinguished from "the East" or "the Orient." In the course of their colonial activities, however, the British began to conceive of the Middle East as a separate and distinct part of the world, with consequences that continue to be felt today. As they reimagined boundaries, the British produced, disputed, and finally dramatically transformed the geography of the area—both culturally and physically—over the course of their colonial era.
Using a wide variety of primary texts and historical maps to show how the idea of the Middle East came into being,
Dislocating the Orient
will interest historians of the Middle East, the British empire, cultural geography, and cartography.


press.uchicago.edu/ucp/books/book/chicago/D/bo25793846.html
320 pages | 45 halftones, 2 line drawings | 7 x 10 | © 2017

Biographie de l'auteur

Daniel Foliard est historien et maître de conférences en histoire et civilisation britanniques à l'Université Paris Nanterre.
Recensions
"Foliard's book is a highly significant contribution to the growing literature on cartography and empire. Not the least of the projects of European imperialism was the mapping of the globe. Far from being an objective exercise, this mapping was bound by ideological and cultural, military, and ethnic considerations. Nowhere was this truer than in the region which came to be known as the Middle East. The importance of Dislocating the Orient lies both in the light it sheds on the construction of the Middle East, underpinning the politics and tensions of today, and on the applicability of its ideas to other imperial zones in the nineteenth and twentieth centuries."
(John M. MacKenzie, Lancaster University)
"Dislocating the Orient is a richly illustrated, wide-ranging, and thought-provoking enquiry into the intellectual and cartographic origins of the 'Near East' in a period when the region was of great religious and cultural interest and of enormous strategic importance. Foliard's focus is maps and mapping—but this book offers so much more. It explores the construction of the 'Near East' in nineteenth-century public minds, and in school and university education, in Britain, France, Germany, and Russia, and within the region itself. It illuminates the connections between exploration and espionage and the institutional apparatus of empire. From Victorian atlases and scriptural geographies to the implications of the 1919 Versailles agreement, Foliard traces the fashioning and representation of a region key to the making of the modern world with erudition and élan."
(Charles W. J. Withers, University of Edinburgh)
"The space that is 'the Middle East' remains contentious and controversial. Foliard's comprehensive cartographic analysis puts its attempted delineation and definition in a broad cultural context. Appropriately, with such a sprawling subject, this is neither simple history, geography, nor cartography but a fusion of all three. The message is clear: there was no uniform or universal British mental map which holds good across the decades in question. Any notion of a single unitary triumphalist narrative of 'the Middle East' dissolves, as maps are shown to emerge from and to serve different constituencies, each with their own preconceptions and purposes, ones that vary from decade to decade. Foliard is well aware that the instrumentalized geographical entities with which he deals have complicated the geo-political realities of the present. His 'worried history' makes no claim to absolute truth, place blame or offer immediate lessons for the present. There remains plenty to worry about, but he shows us how we have come to be where we are today."
(Keith Robbins, University of Glasgow)
Mis à jour le 18 avril 2017