Vous êtes ici : CDR - CREA - EA 370 / Version française / Publications
Publication (fiche article uniquement)

,
Understanding Blackness Through Performance: Contemporary Arts and the Representation of Identity
Sous la direction d'Anne Crémieux, Xavier Lemoine et Jean-Paul Rocchi
Publié le 6 mars 2017
–
Mis à jour le 6 mars 2017
How does the performance of blackness reframe issues of race, class, gender, and sexuality? Resistance and redeployment strategies inform the world of black theatre, performance, and theory, generating a multiplicity of positions from an intersectional perspective.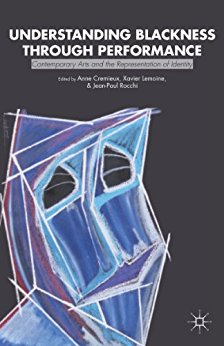 Here, the contributors look into representational practices in film, music, literature, sculpture, video, vaudeville, fashion, and theatre and explore how they have fleshed out political struggles, while recognizing that they have sometimes maintained the mechanisms of violence against blacks. These practices have opened up new territories that require scrutiny today.
Relié: 289 pages
Editeur : Palgrave Macmillan (31 octobre 2013)
Langue : Anglais
ISBN-13: 978-1137325075
www.palgrave.com/us/book/9781137325075











About the authors

Anne Crémieux is associate professor at the University Paris Nanterre, France, where she teaches film and history.
Xavier Lemoine is associate professor at the Université Paris-Est Marne-la-Vallée where he teaches American studies.
Jean-Paul Rocchi is professor at the Université Paris-Est Marne-la-Vallée where he teaches African American literature and gay, lesbian, and queer studies.

Other contributors:

Zakiya R. Adair, University of Missouri, USA Gayle Baldwin, University of North Dakota, USA
Myron M. Beasley, Bates College, USA
Simon Dickel, Ruhr-University Bochum, Germany
Vanina Géré, University Sorbonne Nouvelle-Paris 3, France
Mae G. Henderson, University of North Carolina at Chapel Hill, USA
Kristin Leigh Moriah, The Graduate Center, City University of New York, USA
James Smalls, University of Maryland, USA Stephany Spaulding, University of Colorado at Colorado Springs, USA
Toniesha L. Taylor, Prairie View A & M University, USA Rinaldo Walcott, University of Toronto, Canada


Contents

Introduction
Rocchi, Jean-Paul (et al.)
Pages 1-22

Each Taking Risk, Performing Self: Theorizing (Dis) Narratives
Beasley, Myron
Pages 25-40

Transformative Womanist Rhetorical Strategies: Contextualizing Discourse and the Performance of Black Bodies of Desire
Taylor, Toniesha L.
Pages 41-55

"Is Anybody Walkin'?": The Black Body on the Runway as a Performance of the Politics of Desire
Baldwin, Gayle
Pages 57-71

Transgressive (Re)presentations: Black Women, Vaudeville, and the Politics of Performance in Early Transatlantic Theater
Adair, Zakiya R.
Pages 75-90

Kara Walker's War on Racism: Mining (Mis)Representations of Blackness
Géré, Vanina
Pages 91-107

Between Mumblecore and Post-Black Aesthetics: Barry Jenkins's
Dickel, Simon
Pages 109-123

From Book to Film: Desire in
Crémieux, Anne
Pages 125-140

Black Queer Studies, Freedom, and Other Human Possibilities
Walcott, Rinaldo
Pages 143-157

About Face, or, What Is This "Back" in B(l)ack Popular Culture? From Venus Hottentot to Video Hottie
Henderson, Mae G.
Pages 159-179

Margin Me: Intentional Marginality in the Queered Borderlands of Hip-hop
Spaulding, Stephany
Pages 181-195

Sculpting Black Queer Bodies and Desires: The Case of Richmond Barthé
Smalls, James
Pages 199-220

I Am Not a Race Man: Racial Uplift and the Post-Black Aesthetic in Percival Everett's
Moriah, Kristin Leigh
Pages 221-236

Embodying Hybridity: Anna Deavere Smith's Identity Cross-Overs
Lemoine, Xavier
Pages 237-261


Mis à jour le 06 mars 2017